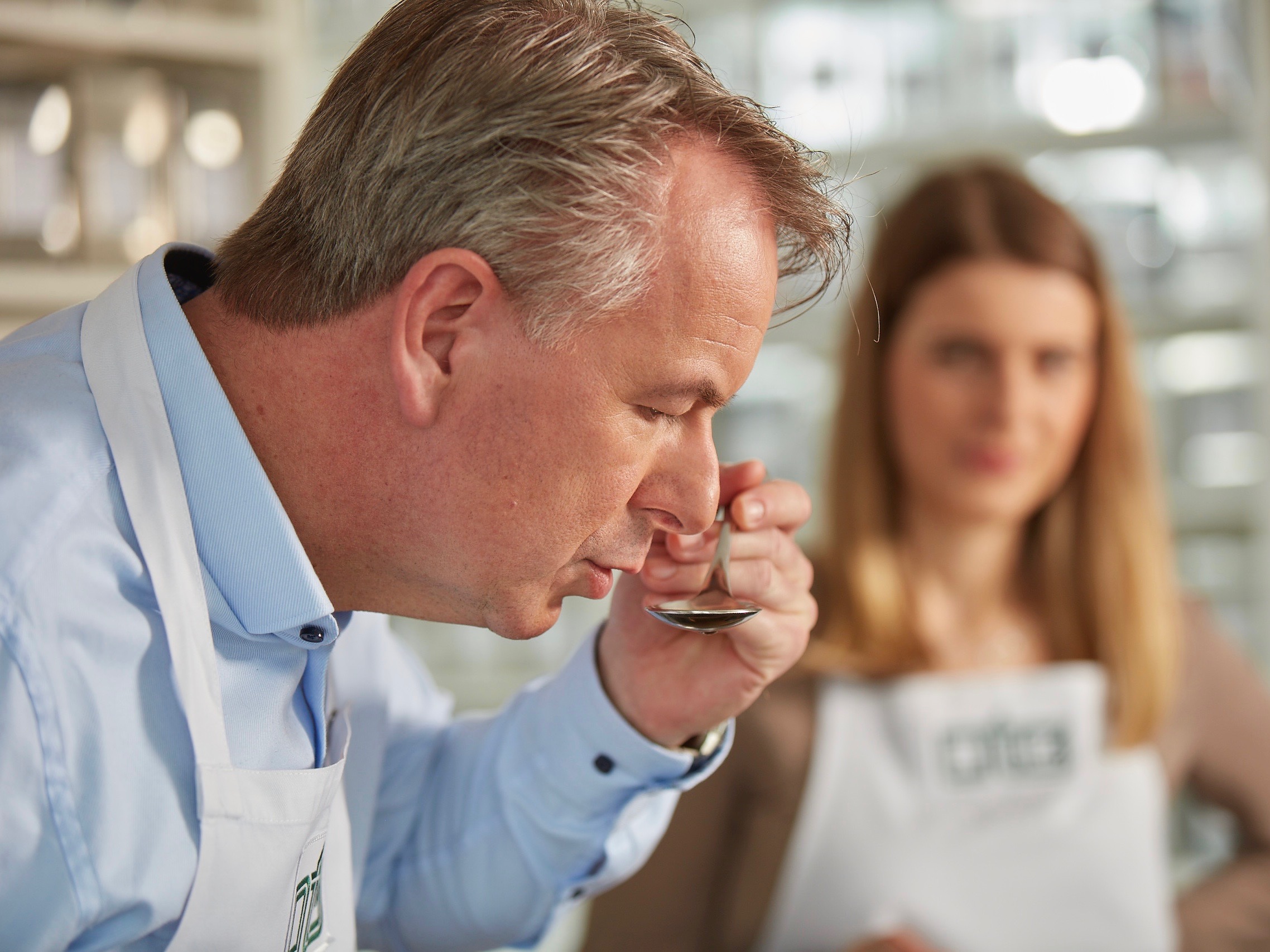 Our aspiration
We see more in tea
We want to make the very best out of our tea and create unique taste experiences every day. It is important to us that we continue to develop further and delight customers with quality and new ideas. Our guiding theme, "We see more in tea", not only describes the tea refining process but also refers to all of our practices:

We create unique taste experiences for exceptional tea enjoyment.
Our comprehensive expertise, excellent market knowledge, and keen intuition for consumer desires set our products apart. Our tea tasters select the best ingredients daily and decide which subtleties we can provide to give our consumers that extra bit of enjoyment. Through exquisite, innovative compositions and the finest flavours, we create unique taste experiences.
We give a promise of quality for each of our products.
Quality inspections and audits occur regularly during cultivation to guarantee the best possible quality of the raw ingredients. Within the scope of our quality assurance system, we monitor and analyse every raw material, ingredient and packaging material in a multi-step process using the most modern technology. Our products only enter the market once they have entirely fulfilled all of our quality criteria. We are not satisfied to simply comply with German and European standards – we go above and beyond them.

We make our contribution to a sustainable tea industry.
When it comes to sustainability, we are one of the pioneers and crusaders in the German tea industry. For many years, we have been conserving resources, developing environmentally friendly packaging, increasing our energy efficiency, and communicating our commitment along the entire supply chain to our partners and our consumers. By 2030, we want to source 100 per cent of our raw materials from sustainable cultivation. Beyond that, we work closely with strong local partners to improve the working and living conditions of farmers and their families long-term.
We continuously reinvent our brands and products.
Tea has been around for a thousand years and is now available in almost every possible flavour. Therefore, we constantly ask ourselves anew: how can we reach the consumer in their changing world? With what can we surprise them? How can we set ourselves apart from the market? And what new tea-drinking situations can we create to reach new target groups? By combining long-standing tradition with innovation, we succeed in continually reshaping the market with new product concepts without losing what is tested, tried and trusted.